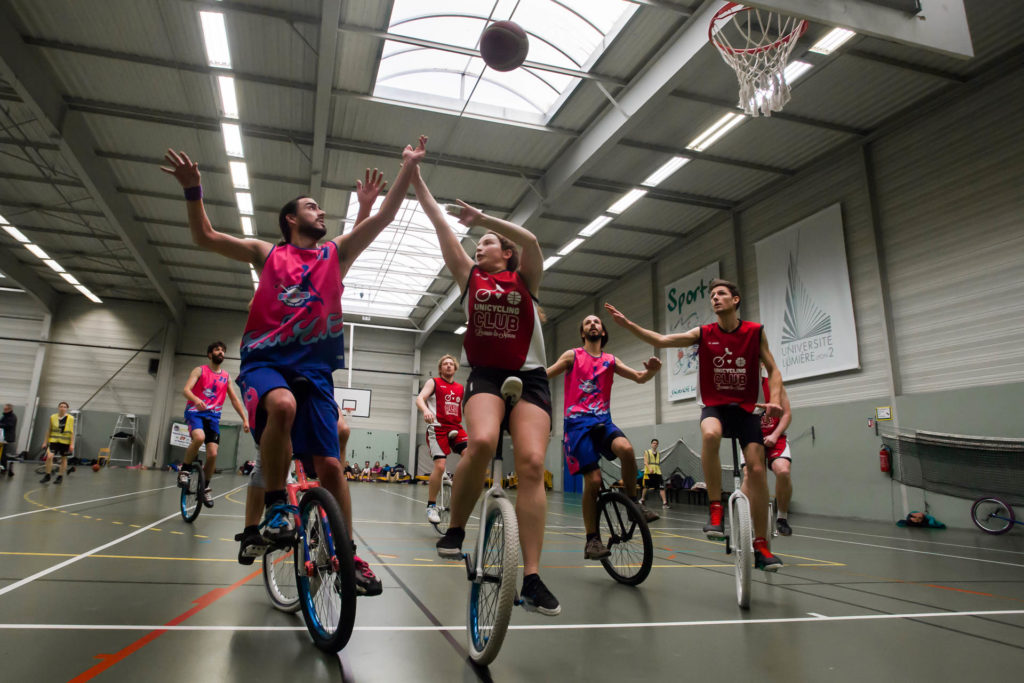 For those who do not play unicycle basketball, it is very similar to basketball but uses a set of adapted rules. Its highlights include collective play, personal skills, and balance. It is also an excellent way for beginners to improve their unicycle skills while having fun.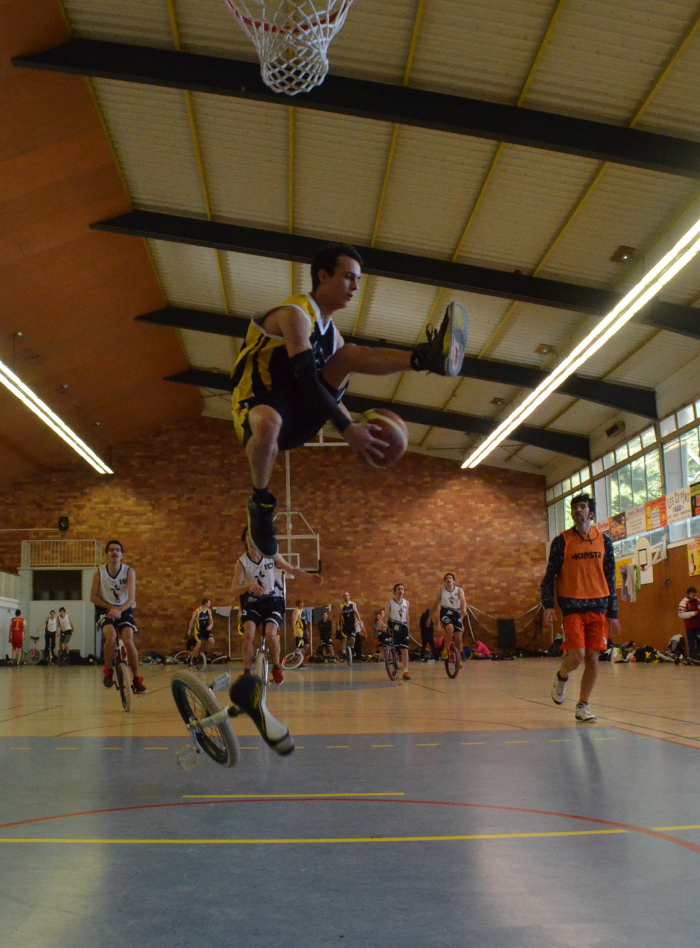 We are lucky to see UNICON organized in France this time, a great unicycle basketball nation. In order for each unicyclist to find his or her pleasure, we are offering tournaments for everyone:
A Tournament: the best teams will compete for the title of World Champion,
B tournament: players and teams for a more modest level to play against as many teams as possible, and
Youth tournament: for players under 19 to play in a tournament of their own.
We have 5 full days at the Gymnase Jean-philippe Motte tournaments. The court can be set for two courts, or a single court meeting official standards. 
We expect a large number of teams to participate in this UNICON. We want to do our best to ensure that each of them will benefit from this event. To do so, we have set rules for selecting teams in case there are too many of them. Selection rules can be found below.
In addition to these tournaments, we will offer you an official day of workshops! Current workshops include:
A 3×3 tournament: come discover this more dynamic and simpler variant of the game to play when there are fewer players, and
Referee training.
We hope to see you there!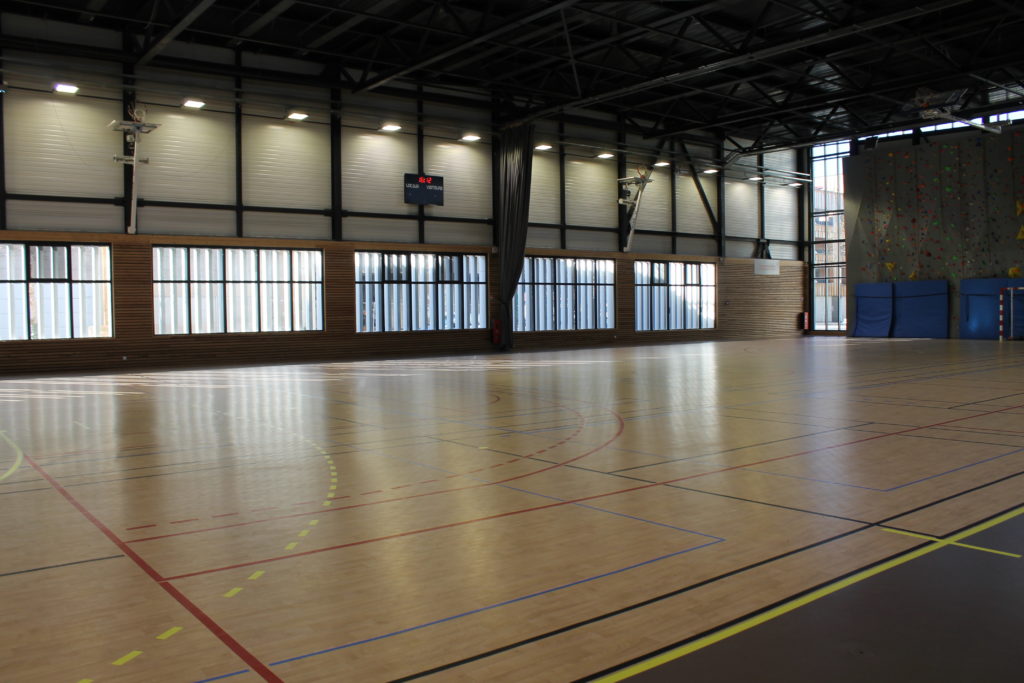 Selection rules
A team is represented by its captain, whose own registration payment validates and sets the registration date of the team's registration. By the online registration deadline of 30-June, the team must include at least 5 players (otherwise it will not be included in the tournament) and a maximum of 12 players. If the team has more than 12 players, the captain must indicate which 12 players will remain on the team.
Each team is considered to be representing a country. This country will be determined by the most common nationality among the team's players (in case of a numerical tie, the team will choose between the two most common nationalities).
For tournaments A and B, a maximum of 16 teams may participate. For the Youth tournament, a maximum of 12 teams may participate.
The two finalists of the previous UNICON, if present, are automatically selected among the 16 teams participating in Tournament A.
The first 16 teams registered in each tournament, determined by the time stamp of their captain's registration payment, will participate in the corresponding tournament; unless one of the following rules applies:
If there are more than 6 teams from the same country among the 16 teams selected for each tournament, then only 6 of them will be selected according to the priority rules below (rules 8, 9,10, and 11). The tournament is then made up of 16 teams with the remaining teams not belonging to the concerned countries, in the order of their captain's registration payment, up to a maximum of 6 teams per country.
If, by rule 6, the 16 places in each tournament are not allocated, countries with more than 6 teams registered are allocated the remaining tournament places equally. This concerns first the teams excluded by rule 6 (in compliance with rules 7, 8, 9 and 10), then the remaining teams in the order of their captain's registration payment.
Priority rule 1: Only one team per "club" has priority for each tournament. If a second team from a club is registered, it will automatically have a lower priority than the first teams from the same country. And the same applies to the following teams (third, fourth, etc.).
Priority rule 2: Once the priority rule 1 has been applied, the teams of a country are ranked according to their best results in the last 3 UNICONs (the results of tournaments A take precedence over the results of tournaments B). In case of a tie between 2 teams, the second best result is taken into account, then the 3rd best result.
Priority rule 3: Once priority rule 2 has been applied, and in the case of remaining ties, the UNICON organization will ask the corresponding national organisation to prioritize the teams.
Priority rule 4: If the national organisation is not able to prioritize teams (priority rule 3), then the remaining teams of the nation will be chosen in the order of their captain's registration payment.
If a team is not selected for Tournament A, it will be offered to switch to tournament B, but will nevertheless be subject to the selection rules for Tournament B.
In all cases, the co-directors of the event reserve the right to:
– Ask a team to change tournaments if they believe it is a better placement for that team.
– To change the distribution of the number of open places between Tournament A, Tournament B, and Youth tournament, while keeping a total of at least 44 places in total.
Additional Information
In addition to the IUF rules, and for safety reasons, the FIBA rules about the no-charge semi-circle areas will not be applied during UNICON 2020.